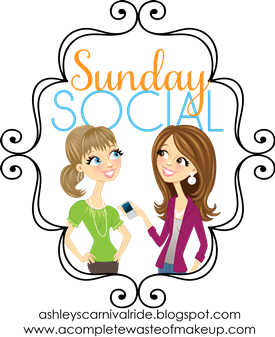 As I sit in my air conditioned home to get away from the muggy 100 degree weather, this Sunday Social is my kind of topic - FALL, a season I wish I could experience right about now! (But I will also be that girl that is whining about the cold and wanting sunshine come about February or so - we're never happy are we?!)
1. What is your favorite Fall activity?
Mike's bat pumpkin and mine and Noah's Cookie Monster pumpkin 2011
Bon fires. Trips to the pumpkin patch. Carving pumpkins. Watching FOOTBALL!
2. Do you follow a football team? if so which one and why?
Yes, but in this household - it's all about college football.
We are big Oregon Ducks Fans!
At a Ducks game last year! (side note....don't' do dark hair again!)
Even lil' Noah was a Duck fan as a baby!


3. What is something fun about Fall in your area?
We are lucky to have local farms that open up their property for fun fall activities. There are wagon rides, pumpkin patches, "punkin' chunkin'" slingshots, haunted houses, and corn mazes.
I also live in an area with a large selection of vineyards - nothing better than a wine tasting day in the crisp cool air.
4. Fav Fall outfit staples?
Peacoats, Boots, Scarves
And now that my hair is FINALLY getting longer, an adorable hat!


5. Thing you are looking forward to most about this coming Fall season?
Noah is old enough this year, that I really can't wait to partake in all sorts of activities with him. Maybe even establish a little Q family tradition!
I'm also eagerly awaiting peppermint mochas, layering options for fall outfits, and annual family fall photos!


6. Favorite Fall holiday? Traditions?
I kind of love Halloween! Not the dark spooky parts, but I'm cheesy (which I'm sure you all have figured out by now) so any excuse to come up with costumes, and I'm game! I love the decorations and the fun activities you can find for the little ones to do.
Pretty much the reason I love halloween - is there anything cuter than a mini-Super Man and a Clark Kent dad?
Lovely Sponsor