4. Would you rather buy a new house or renovate an old one?
Can I have the best of both worlds? The charm of an older home (I'm a sucker for archways, hidden closets, and built in shelving), with the updates and technology of a new home?
I think if money were not an issue, I would love to own a historic home, but renovate it to be energy efficient and up to date on all of the plumbing, wiring, etc.
I've gone through many phases. As a young girl, I had long straight hair - passed my butt.
I've gone back and forth - from dark to light, short to dark, red to purple.
Now I'm in the process of growing it out - and keeping it blonde.
I'm a sucker for a great A-line. I loved my haircut back then.
But for now, I'm in the midst of another hair "phase" - we'll see how long this one of growing it out and keeping it blonde goes!


6. Who is your oldest (not by age) friend?
My friend Kim and I have been friends since Middle school.
We have had our ups and downs - a real Blair and Serena friendship at times (Gossip Girl anyone) - BUT we've always been there for each other - and I cherish her friendship.
7. What is your favorite blog- currently?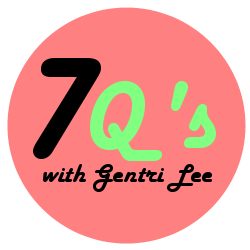 Our Lovely Sponsor