Today I am linking up with Ashley & Neely for this weeks Sunday Social.
You ask what is a Sunday Social - well it is just that. A topic of questions - This week it is all about T.V. - and we answer them & link up!! What a great way to make new friends!!!
I LOVE MEETING NEW FRIENDS!
So head on over, grab a button & link up!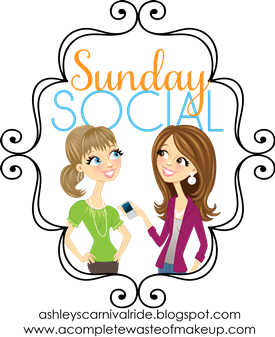 Favorite TV show of the past:
this is hard for me to pick just ONE tv show from when I was younger...So I'll pick two! My favorite CHILDHOOD show was most definitely David the Gnome. Most people I talk to have never heard of the show (except for my husband, we knew it was a match at that point!) I think it was on at an odd time, or a smaller station, but it's the one show I can truly remember watching when I was just a little tike.
As I got a little older - tv definitely played a huge role in my childhood, as lame and sad as that sounds. I wanted to be Clarissa from Clarissa Explains it All, do my hair like Kelly Kapowski from Saved by the Bell, and date James VandDerBeek from Dawson's Creek.
But my favorite show of them all was Boy Meets World. If I'm ever lucky enough to catch it on tv, I always watch a few episodes and reminiscence.
Favorite TV show currently
We're "that family" that doesn't have cable...but I definitely get my fix from our Hulu and Netflix services. I'm a sucker for "trashy" tv and can't get enough of shows like "Shark Tank" and "Revenge", but my absolute favorite that I can never get enough of has to be "Modern Family" (I guess it doesn't hurt that "Phil" went to my high school, so I have a bit of a soft spot for him!)
Which Reality Show would you

NEVER

do?
I'm not even sure if it's still on....but you could not PAY me enough to be on Fear Factor - I hate bugs, heights, and deep water...needless to say this show was NOT made for me. I don't want to be anywhere near the set ;)
Which Reality Show would you

LOVE

to do?
I think it'd be such a great experience to be on a motivating show like the Biggest Loser. I think it's an environment that I'd shine in - the constant hounding from personal trainers, and getting to see everyone around me making positive changes. I'm not sure if I could drop everything and join a reality show of any sort at this point though!
TV personality/character that you feel is most like you?
I'm a tad dramatic, a lot emotional (at times), have a diehard love for glitter, can plan a party like nobody's business, and am insanely afraid of ridiculous things like spiders - I AM Cam from Modern Family (yes, the gay man) in a nutshell.
I don't sleep clown...but that's a small detail!
TV character you'd want to date?
Both of the TV Characters that I find extremely attractive are slightly out of my reach. I don't mean that in a "oh, we'll probably never meet" sort of a way, but they are both rumored to not like women....but a girl can dream right?!
Neal Caffrey - White Collar
Wentworth Miller - Prison Break (don't let the name fool ya!)
Happy Sunday!
Our Lovely Sponsor