Dear Son of Mine
- you never cease to amaze me. Each day you change so much right before my eyes. Never lose that little glimmer in your eye or your chubby little toes.
Dear Husband
- you support me in each and everything I do, even when I'm crazy....I don't know how you put up with me, but I'm so glad that you do, and you do it with a smile.
Dear Dixon
- our little fur baby, so glad you're ok. I'll never let those fireworks spook you into running into the road again.
Dear Ben Harper
- you put on an amazing show, one for the books, you're so humble and kind - with an immeasurable talent. Although I'd like to bring you home with me so you can sing me to sleep, I'm pretty lucky to have a husband that knows your songs, and plays them for me.
Dear Friends
- I don't know how you do it - keep up a life AND do so well on keeping adorable, organized, and overall amazing blogs! I've been feeling awfully overwhelmed, and seem like I'm constantly trying to stay on top of things. So to you that can do it, I truly envy you!
Dear Scary New Job Opportunity
- I'm convinced you're good for me, and that change might not be such a bad thing - looking forward to the interview Thursday!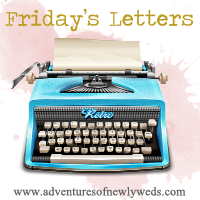 Our Lovely Sponsor